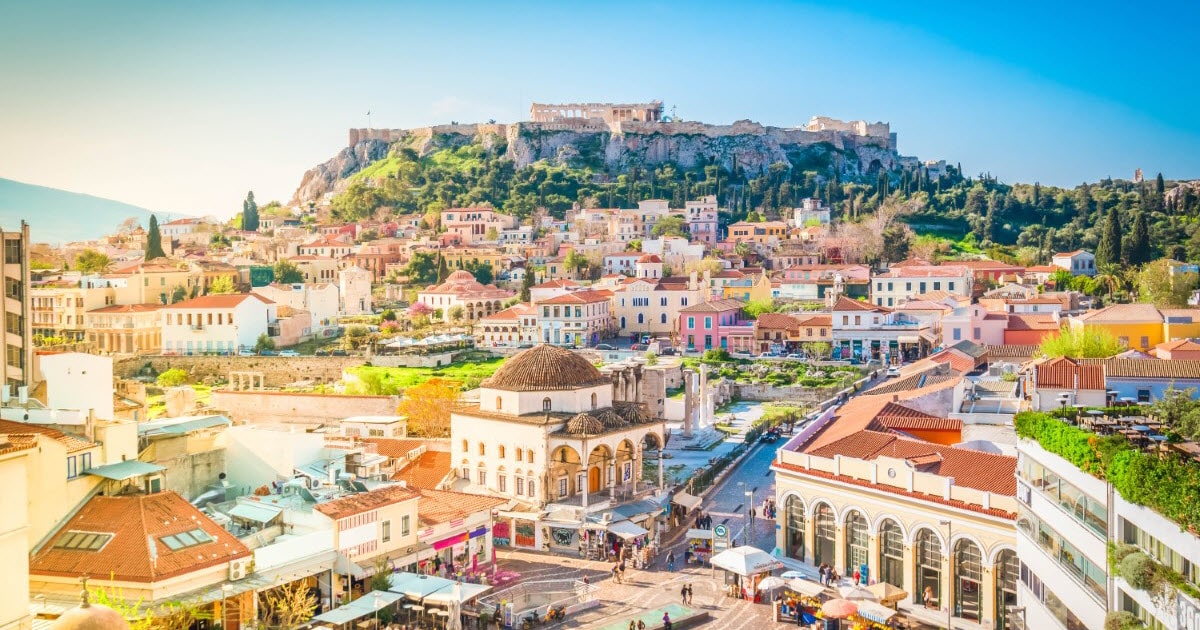 Greece is a beautiful island country located in Southeastern Europe. It has a long and interesting history intertwined with delicious food and stunning architecture. A trip to the Grecian Islands will not disappoint. It's a fun and educational vacation for the whole family! This family-friendly 7-day Greece itinerary guarantees an unforgettable adventure.
With so many different possibilities that await in Greece, it can be overwhelming to even figure out where to start. The itinerary I'll reveal here covers everything from which islands to visit in Greece, how to get there, and what must-see attractions should be on your list. Read on to see the answers to many questions and be able to get started planning your next adventure! 
ItineraryFrog.com is reader supported. If you make a purchase after clicking a link, I may earn a commission at no additional cost to you.
Where to Stay in Greece?
Due to the various islands all over Greece, this 7-day itinerary includes overnight stays in three of the major regions: Mykonos, Santorini, and Athens.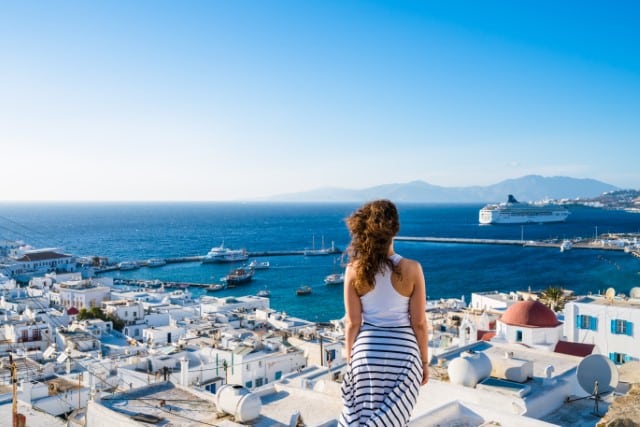 While there are many hotels available to you in each of these places, below we have listed our top 3 recommendations for which hotels to stay at while in each city on this itinerary. 
ItineraryFrog.com is reader supported. If you make a purchase after clicking a link, I may earn a commission at no additional cost to you.
How to Get Around?
Greece is composed of several different island groupings, so take advantage of short flights or catch inter-island ferries to get around. Flying is usually the best option as you don't want to waste time.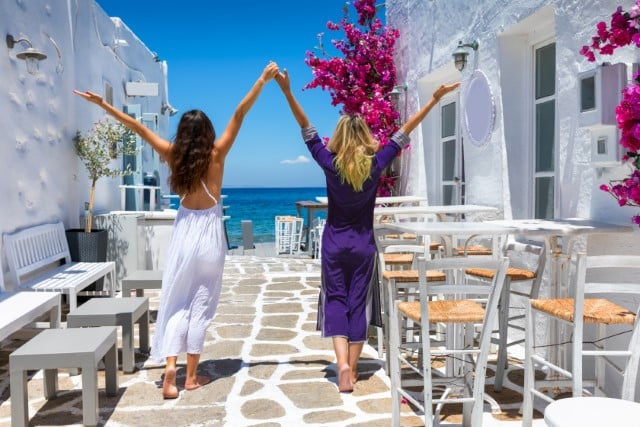 If you book early enough, you can usually get some good deals! Sometimes, the boat tickets can be even more expensive than the flights and take much longer.
However, it can be such a fun experience to see the different islands from the crystal blue Aegean Sea. This 7-day itinerary will utilize both flights and ferries to get around Greece for the best of both worlds! 
Once you have arrived at the various islands you will be visiting, there are a couple of different options for traveling around to the different sites. Many of the cities in Greece are very pedestrian-friendly, and tour operators often provide transportation.
Renting a Vespa or a car is always another option, but it will require international driving permits before departing.
Each day in this itinerary will include a suggested form of transportation depending on the day's activities!
Day 1
Arrive in Mykonos
When arriving in Greece for the first day, you will want to schedule a flight into the Mykonos International Airport. With the close proximity of everything in Mykonos, renting a car is unnecessary.
Hail a cab at the arrivals terminal and head towards your hotel to check in. All of your activities for the day are within walking distance, so strap on your good shoes and head out to explore!
Explore Little Venice
Make your way to your first stop in Mykonos, Little Venice. While it shouldn't dissuade you from one day visiting the real Venice, Mykonos' version is known to be one of the most charming places in all of Greece.


This area is filled with seaside restaurants and shopping establishments that will be a great introduction to the island.
Enjoy your first taste of Greek food at Kastro's Restaurant. It also boasts stunning views of the island's famous windmills, where you are headed next! 
Windmills
From all over the city, visitors can catch glimpses of the iconic Venetian windmills. Originally constructed to produce wheat and barley, these structures have now become an iconic part of the Mykonos skyline.

Just a short walk from Little Venice, explore the windmills and learn about their history. This is also the perfect opportunity for you to snap that perfect family photo. 
Lena's House
Lena's House is an intimate historical museum that is an excellent representation of what a 19th-century Mykonian house must have been like!
Walk through the rooms to get a taste of Greek culture and heritage through real artifacts of the house's namesake. 
Archeological Museum of Mykonos
Round out your day of Greek and Mykonos history with a visit to the Archeological Museum of Mykonos.

This small museum houses artifacts and information from the history of the island. You'll see vases, artwork, and jewelry. It's a great finale to an educational day all about Greece! 
Dinner at Interni Restaurant
This courtyard restaurant is a local favorite, offering Mediterranean cuisine with flavors from around the world. This is an excellent place to try some authentic Greek dishes with an incredible view.
Day 2
On day 2 of your 7-day itinerary in Greece, grab a bite to eat at the Liberty Breakfast Room. From there, head to the harbor to catch your boat for today's adventures. 
Boat Tour to Delos
Delos is a small island right off of the coast of Mykonos. Upon visiting, the whole family will be able to discover archeological ruins and ancient Greek history.

Believed to be the mythical birthplace of Apollo, the remaining ruins include a theater, homes, and a variety of monuments. On a half-day tour from downtown Mykonos, you will board a ship to cross the waters.
You'll be able to learn about and explore all that Delos has to offer with an educated guide. 
Paradise Beach
Upon returning from Delos, grab a bite to eat in town at Captain's- Good for Sharing. Then pack up your beach bags and head to one of the most beautiful beaches in Greece for some swimming and lounging fun.

The best way to get there is by using the bus system that regularly transports between Mykonos and Paradise Beach. Speak with your hotel concierge to determine the pickup and drop off points and times. 
Dinner at Nikolas Tavern
Nikolas Tavern is located right near Paradise beach with gorgeous views of the ocean. With a relaxed atmosphere and authentic Greek food, this is a great stop to fuel up after a long day in the sun. They will even call you a taxi back to your hotel when you are done! 
Day 3
Your time on one of the most beautiful Greek islands has come to an end, but don't worry! The most popular destination in all of Greece is up next, Santorini!
Plan for an early breakfast at Vergera Cafe Bar Restaurant before catching a morning ferry across the sea. 
Ferry to Santorini
It is easy to navigate between these islands by ferry and it does not take very long. There are a few ferries that depart between the islands each day.

They pick up in Mykonos Old Town and arrive in Thira, the main city in Santorini. These ferries last about 2 to 3 hours in total and give you magnificent views of the Aegean Sea.
Take in the surrounding islands as you glide through the water on your way. All you have to do it sit back and relax! 
Upon arriving in Santorini, your hotel will be a short walk from the port. Check-in, find your room, and then get ready to hit the beach! 
Kamari Beach
Kamari Beach is a short taxi ride away from the Old Town Santorini. Santorini's volcanic history has created some of the most unique beaches in the world, and Kamari Beach is no different.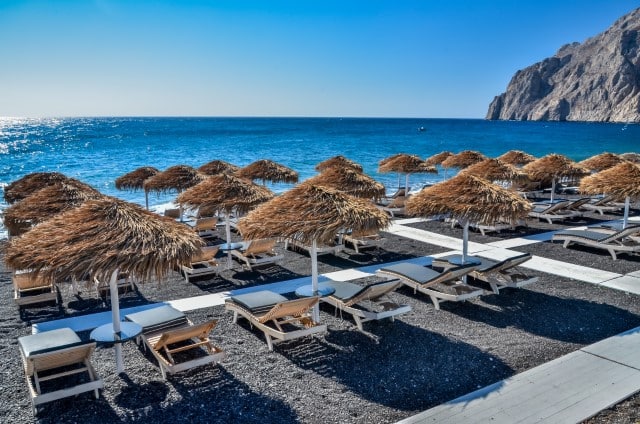 This black sand beach with clear blue water is a popular tourist spot for those visiting Santorini. Take advantage of the cabanas and numerous restaurants along the coast as your family spends the afternoon taking in the views and Grecian way of life. 
Dinner at Cava Alta
After an afternoon of frolicking in the waves at Kamari Beach, hail a taxi back to your hotel and get ready for an excellent dinner at Cava Alta.
This charming family-owned restaurant offers amazing food and excellent service. The sunset views from the terrace are heralded as some of the best in the city. Even enjoy a live band on some nights! 
Day 4
Today will be a long, educational, and fun day in this 7 day itinerary of Greece! You will need your energy so grab a bite to eat at Pyrgos Restaurant. But make sure you are back to your hotel in time to be picked up for today's tour! 
Santorini Sightseeing Bus Tour 
Explore all of Santorini by letting someone else take the reins! Book a full-day tour that will take you around to some of the most iconic and historical spots on the island by bus.

Visit traditional Greek villages and stop at volcanic beaches on a thorough and complete tour led by an educated, English-speaking guide.
You will enjoy learning about the history of the island and seeing some of the most beautiful locations. This will be the best way to see most of the island in your short time here! 
Dinner at Kantouni
The tour operator will drop you back off at your hotel, where you can freshen up before heading out for a bite to eat. Kantouni's is a reasonably priced restaurant with a cozy atmosphere.
Top it off with an amazing view of the ocean and island from the top of the hill. This will be an excellent place to end your time in Santorini with some authentic Greek food. 
Day 5
Today, you will be saying goodbye to the beautiful island of Santorini and head towards the most famous place in all of Greece, the capital city of Athens. 
Travel to Athens
The distance between Santorini and Athens is quite long. The best travel tactic is to catch a taxi to Santorini (Thira) International Airport and take a short fight to Athens.

These flights are relatively inexpensive and last about an hour, much more convenient than a 5 to 8-hour ferry ride.
Upon arrival at the Athens International Airport, find a taxi that will take you into the heart of the city to check into your hotel and drop off your things.
Athens Food and Walking Tour
Greece is known for its exquisite cuisines as well as ancient historic attractions. That is why I suggest booking an Athens Food and Walking Tour.

An guide educated in Grecian history and cuisine will take you on a walking tour around the city center. They will explain the history and archeology while making some stops along the way to indulge in unique Greek dishes.
This is an excellent way to enjoy delicious food, get an exciting introduction to the city, and learn about some of the country's most historic sites.
Explore Athens
Since you will probably be full from an afternoon of eating, focus your evening on exploring the different parts of the city that you were introduced to during your walking food tour.
Return to some of your favorite locations, interact with the locals, and get in some shopping as you truly take in this exquisite city. 
Day 6
Today, your family will step back in time to the days of the Ancient Greeks, learning about their history and their way of life.
You will be able to see first-hand artifacts and ruins as you peruse the major monuments housed inside of the city. Make sure you have good walking shoes and a trusty camera at the ready before leaving the hotel! 
Tour Ancient Athens
Athens is home to some of the oldest and most recognizable structures in the world. These buildings crest the hills of Athens and are surrounded by so much history.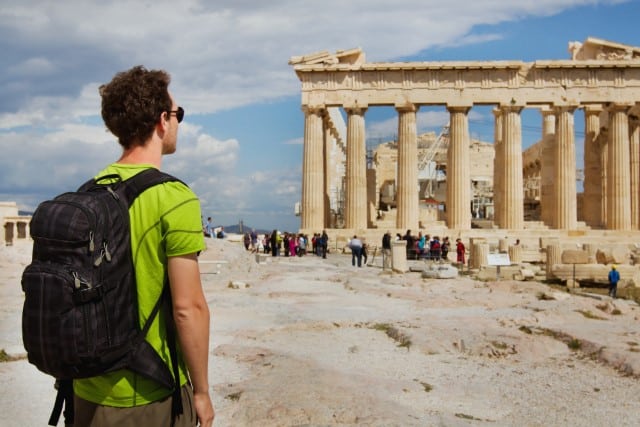 This walking tour through Athens will introduce your family to all of the major sites while getting to walk and explore at your own pace! It is sure to be a highlight of this 7-day itinerary through Greece.
You can go on the route I describe below independently, or you can take part in a guided tour. There are multiple excellent tour companies to choose from.
Route
The Acropolis
The Acropolis of Athens is a citadel located at the top of a cliff overlooking all of Athens.

It contains many historical buildings and monuments, such as the Parthenon and the Theater of Dionysus.
The Roman Agora
Built between 9 and 11 BC, this ancient market lies just north of the Acropolis.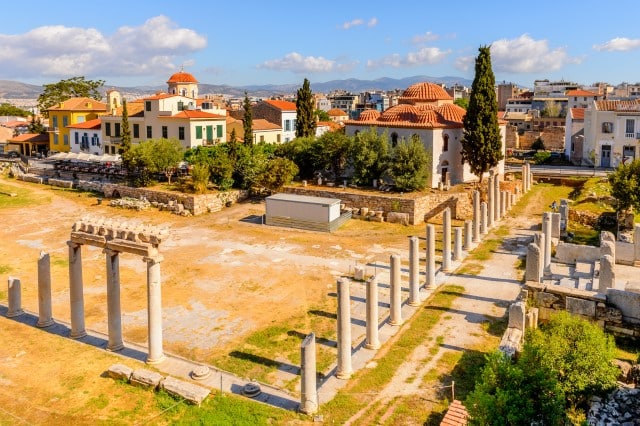 Temple of Zeus
This once colossal temple was dedicated to the Olympian Zeus.

Although only a few columns remain, it still awes visitors to this day. 
Hadrian's Arch
This ancient structure was constructed to honor the Roman emperor Hadrian.

It is said that is was built to welcome him to the city as their leader. This 11-meter high gateway still stands. 
Syntagma Square
Syntagma Square is the central square of Athens. It has become a major point of social, political, and economic life in Athens. 
National Gardens
Just a short walk from Syntagma Square lies this 24 hectares full of vegetation and wildlife.

A walk through the gardens is an excellent way to escape the hustle and bustle of the city and appreciate some of the Greecian landscape. 
Panathenaic Stadium
This stadium is the only one of its kind in the world as it is constructed entirely of marble and for many centuries hosted athletic gaming events. 

Dinner at Grande Bretagne
To round out a wonderful day experiencing Ancient Greece, return to your hotel to freshen up and then work your over to Grande Bretagne, an upscale dining venue with uninterrupted views of the Acropolis.
Day 7
Your 7 day Greece itinerary is almost over! Head out for breakfast at the unique Bel Ray Restaurant, a traditional car shop that was transformed into a modern classy cafe. It is a local favorite!
As this may be one of your final meals in Greece, savor every bite before hitting your last attraction. 
Acropolis Museum 
Before leaving Athens and heading home, make time to visit the Acropolis Museum. You visited the Acropolis site yesterday, and today your family will be able to view archeological findings and artifacts that are associated with that historical landmark.

Not only is the museum's architecture stunning, the entire family will enjoy the 25,000 square foot area with more than 14,000 square feet of exhibitions.
The museum also hands out backpacks of interactive activities for the children to make the visit more interesting for the younger ones in your party! 
Travel Home 

Depending on how much time you have before you need to head to the airport, stop for the last bite to eat of authentic Greek food at the Acropolis Museum Restaurant and explore the downtown area as you reflect on your 7 day Greece itinerary and the trip it delivered.
When it is time, hail a taxi headed for the Athens International Airport to start your journey home.