Ireland is one of the most picturesque countries in the world, with a fascinating history. From rolling green hills to medieval castles that all tell unique stories, there is so much to see and experience in Ireland. Whether you're a history buff, enjoy landscape views, or want to try some authentic Irish cuisine, there's something for everyone to enjoy on the Emerald Isle.
While Ireland is a fairly small country compared to others in the world, it can take time to figure out how to see as much as possible and make the best of it. Fortunately, this itinerary will guide you on how to make your seven days in Ireland really count.
Each step is planned out. This includes everything from purchasing the plane tickets to finding things to do, and places to eat to heading back home with a suitcase full of souvenirs.
But this itinerary is also not set in stone. You can make adjustments as needed for what you want to see, where you want to go, what fits with your budget, and any other changes as needed. May the luck of the Irish be with you during this incredible vacation!
Preparing for Your Trip to Ireland
Your first day in Ireland is about getting settled, finding the right plane tickets, and finding somewhere to stay. Once you've settled in, you're ready to get started by exploring possibly the most iconic city in Ireland; Dublin.

Purchasing Plane Tickets
The main international airport for Ireland is Dublin International Airport (DUB). It's highly recommended that you fly straight there since your first day starts in Dublin.

The city is also home to a lot of different hotels to choose from.
Some other airports that you can use to fly into Ireland include:
As for how much flights cost, the prices vary from airline to airline. They depend on which type of flight you get, but the ballpark price is around $400 to $900.
The prices of airline tickets can be fairly unpredictable, so it's highly recommended that you look around and research the best options to get the best deals.
ItineraryFrog.com is reader supported. If you make a purchase after clicking a link, I may earn a commission at no additional cost to you.
Best Hotels In Ireland For Any Budget
You'll be bouncing around the entire country of Ireland for this week-long trip. That means you will have to stay in a variety of hotels and inns, also known as B&B's (bed and breakfasts).  From where you start in Dublin, which is a fairly big city, you can stay at one of the hundreds of hotels they offer.

The Croke Park Hotel is considered the best one in Dublin. Critics have praised it for the friendly staff and charming and comfortable rooms.
It costs about $259 to stay there for one night, and the hotel comes with a variety of amenities. For example, you get a delicious onsite breakfast each morning.
As you journey throughout Ireland, you'll have the pleasure of staying at a few B&Bs and inns along the way. This is especially true in the countryside.
A few popular places to stay in Ireland include:
But no matter where you go in Ireland, there will always be a quaint inn with friendly staff ready to welcome you.
ItineraryFrog.com is reader supported. If you make a purchase after clicking a link, I may earn a commission at no additional cost to you.
Getting Around Ireland
Remember, you'll be going to multiple cities around Ireland. So, it's a good idea to have a transportation plan set in place.
The best way to get around Ireland is by renting a car, which you can do for as low as $15 a day. Just make sure to travel on the left-hand side of the road, and drive slowly and carefully since the roads are fairly narrow.

The other popular way to get around Ireland is by taking the train. The country has an interconnected system that can get you from city to city.
Depending on where you're going, tickets cost about $30 to $60. Train travel is a great way to see a lot of the country in a short span of time. Just make sure to purchase any train tickets ahead of time, since they can't be purchased at the station.
Last but not least, you can get around Ireland by taking the bus. Their bus system is also well-connected throughout the country. The tickets are a bit cheaper at $20 to $30 depending on your destination.
ItineraryFrog.com is reader supported. If you make a purchase after clicking a link, I may earn a commission at no additional cost to you.
Ireland Day 1
Here's what's in store for you on your first day in Ireland.
Breakfast at The Cellar Restaurant in Dublin
Once you have gotten settled and arrived in Dublin, your first stop after a long flight is a good meal. If you aren't staying somewhere that offers breakfast, or if you want to get a taste of authentic Irish food right off the bat, head over to The Cellar Restaurant in Dublin.

This restaurant is located right next to The Merrion hotel, another popular hotel to stay at. The interior of the restaurant includes vaulted ceilings giving it an elegant and historical feel. It serves a breakfast worthy of an Irish title.
The Cellar Restaurant has something for everyone. Examples of menu items include baked goods and charcuterie boards showcasing the best Irish meats and cheeses.
They also have their own version of "The Full Irish" breakfast, which includes eggs cooked however you want and their famous Merrion Breakfast Sausage.
Your first breakfast is sure to leave you feeling full and ready to take on the first day of exploring this amazing country.
Sightseeing and Tourist Options
Ireland has become very well known in recent years for being the setting of the popular TV show Game of Thrones. The majority of the settings in that popular series were in Dublin, and they're free for anyone to explore! The city offers guided tours of the filming spots, but you can also explore them on your own time.
A few notable places to visit include the Dark Hedges and the Ruins of Dunluce Castle. These are two of the most iconic settings from the show. Even if you aren't a Game of Thrones fan, there is still a lot to see in Dublin.

A few of the most popular Dublin tourist attractions that aren't related to Game of Thrones include:
With stunning views and so much history to explore, Dublin will surely start your vacation off right.
Lunch at The Fumbally in Dublin
The Fumbally is one of the most popular lunch restaurants in Dublin. It's well-loved by locals and tourists alike for its fresh ingredients and diverse menu.

The menu changes all the time based on what is fresh and in season. So, be ready for pleasant surprises! The Fumbally has delicious sandwiches, salads, and desserts that change from day to day, which makes this place perfect for a quick but tasty lunch.
Dinner at The Woollen Mills Eating House in Dublin
To finish off your day of living in the Game of Thrones world vicariously, whether you're exploring the filming locations or the historic castles, enjoy a delicious Irish meal at The Woollen Mills Eating House.

The building is a refurbished wool shop. Patrons purchased sheep wool to make clothes, blankets, and other household items here many years ago. They are situated near the River Liffey, a forest filled with beautiful scenery and foliage.
Their house specialty is the Dublin Coddle, a type of stew that has sausage, potatoes, vegetables, and herbs. Finish off your meal with a slice of light and fluffy tea cake to end your day on a sweet note.
Evening Entertainment Options
You can't go to Ireland and not go to a bar or pub, that's considered a crime amongst the locals. Since these establishments are a huge part of Irish culture, there are always a few in close proximity.
One of the most popular bars in Dublin is called the Temple Bar, which serves traditional Irish whiskey and has live music nightly.

The street on which Temple Bar is situated has bars and pubs running up and down it, so you can explore each one and get a great taste of the Irish nightlife.
Don't stay out too late though. You want to hit the ground running when you head to Galway. 
Ireland Day 2
The next day in Ireland is all about exploring Galway, a tranquil area with a plethora of natural wonders to explore. It's a much needed change of pace from the hustle and bustle of Dublin from the first day.
Breakfast at Burren Glamping in County Clare
The main cities in Ireland are made up of counties, and one of the counties in Galway is called County Clare. Within County Clare is an adorably quirky little cafe called Burren Glamping, a breakfast spot that's run out of a refurbished horse-carrying trailer.
Each meal is made with the on-site free-range chickens, pigs, and other livestock, as well as their farm fresh produce.
All of the ingredients can be seen for yourself, and they even offer guided tours of the area. You'll enjoy the incredibly warm and welcoming atmosphere, with delicious food to top it all off.
Sightseeing and Tourist Options
Galway is known for having a plethora of natural wonders to gaze upon, including the famous Connemara National Park. The park is free and open to the public, and you can walk through it yourself or have a guided tour.

The park has incredibly diverse and lush scenery. It features views of the coastline and bogs as well as forest and mountain trails. It's a great spot for photos and somewhere to take a breather and relax.
If nature walks aren't for you, Galway also has other things to do during the day. Some of the most popular tourist attractions include:
Visiting Kylemore Abbey and trying the chocolates made by the Benedictine Nuns
Having afternoon tea at Ashford castle
Wandering down Quay Street and the Latin Quarter (great souvenir shopping spot!) and walking through the Spanish Arch
Galway is a bit of a hidden gem in Ireland, and it's definitely worth visiting.
Lunch at Kai Café and Restaurant in Galway
The name of this restaurant directly translates to "food" in Maori, and it definitely lives up to its name. The Kai Café and Restaurant has a quaint and homey atmosphere, from the decor to the food.

The ceiling is decorated with old jam jars hanging from strings, and there are open stone walls and wooden benches giving the space extra Irish flair.
As for the food, this restaurant is known for serving fresh fish straight from the Connemara Smokehouse. They pride themselves on getting their ingredients from high-quality suppliers, so even though their menu changes daily, you always know you're getting the freshest meal.
Dinner at An Port Mór in County Mayo
County Mayo is also located in Galway.

Head to An Port Mór, one of the most popular restaurants in the county. This restaurant is definitely more on the elegant side.
However, they still use fresh and locally sourced ingredients for their daily changing menus.
Their house specialty is pot-roasted pig cheeks (the cheeks on the face, not the other ones) served with black pudding. It's considered an Irish delicacy and goes wonderfully with any of their in-house wine selections.
Evening Entertainment Options
While Galway is a very calm environment during the day, it can turn into a riot at night. Like anywhere in Ireland, there are plenty of local bars where you can have a pint.
Some of the most popular bars and pubs in Galway include:
The Quays
Murphy's
O'Connell's
Tig Coili
Each of them has its own unique flavor and atmosphere, and it's a great way to say farewell to Galway.
Ireland Day 3
Next on your Ireland roster is driving along the Ring of Kerry towards the city of Cork. The Ring of Kerry takes about three and a half hours to drive along, but there are so many places to stop at and explore in the counties along the way.
If you don't feel like driving yourself by renting a car, book a driver to take you on an amazing tour of the Ring of Kerry.
Breakfast at Ballynahinch Castle Hotel
Since you'll still be in Galway in the morning, it's a good idea to get a hearty breakfast at the Ballynahinch Castle Hotel before taking off.

The 450 acres of forest surrounding the restaurant makes the setting look straight out of a fairytale. Breakfast here is a relaxing and even mystical.
Enjoy a delicious breakfast made of homemade granola, amazing pastries and bread, and the restaurant's own on-site bred pork next to a cozy fireplace.
Their specialties include a succulent baked ham and crispy, fresh bacon. You'll be sure to leave feeling full and ready for a relaxing drive.
Sightseeing and Tourist Options
Perhaps the biggest tourist attraction along the Ring of Kerry drive is the Ring of Kerry itself. You'll be taken through the untouched Irish countryside full of wild foliage and livestock. Watch out for the charming cottages sprinkled along the way.

It's highly recommended to get out every hour or so and take in all of the natural beauty, whether its taking a short walk to stretch your legs or breathing in the fresh air.
Killarney National Park
In the same vein of natural tourism, exploring Killarney National Park is definitely a must when driving along the Ring of Kerry.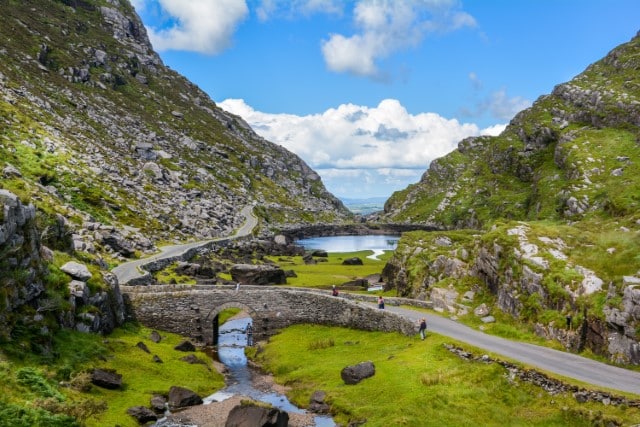 It's known for a hiking trail that leads to Torc Waterfall, which is considered one of the most beautiful natural wonders in the world.
Muckross Abbey
One last popular natural attraction is the Muckross Abbey, as well as the house and gardens right next to it. Muckross Abbey is an abandoned Abbey that has been overrun with natural vegetation, making it look like a setting right out of a fantasy novel.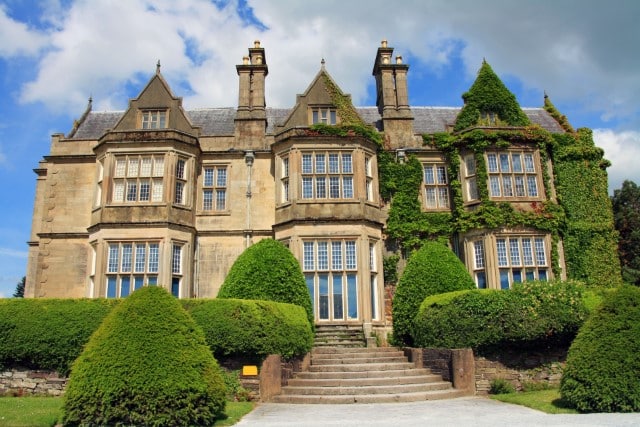 The building itself is somewhat of a maze, so you could easily get lost for hours exploring all of the hidden nooks and crannies of this piece of history.
Right next to the Abbey is the Muckross House and Gardens. The house was built during the 1840s and still retains it's old fashioned charm.
You can explore on your own or take a guided tour to learn more about it. The gardens and the lake that are right next to the house are also very well known for their natural beauty.
Last but not least, Blarney Castle is located along the Ring of Kerry drive, just before you get to Cork. If you recognize that name, it's probably because of the Blarney Stone, which is an actual artifact housed in the castle.
Visitors are encouraged to take part in the tradition of kissing the Blanery stone, in hopes of being granted an eloquent gift.
Lunch at The Skelligs Art Cafe in Killarney
A main county along the Ring of Kerry is Killarney, which is home to many popular seafood restaurants and bistros.

One of the most popular is the Skelligs Art Cafe, located inside the Cill Rialaig Arts Centre.
The Art Centre is one of Ireland's hidden artistic gems, and the dining room of the Cafe is covered in works by local artists.
The Cafe itself offers a menu made from locally sourced organic ingredients, and one of their most popular dishes is the wood fire grilled pizza.
The Arts Centre and the Cafe make for a perfect break from driving to admire Ireland's manmade and natural beauty.
Dinner at Beaufort Bar and Restaurant
There is no better way to end your drive along the Ring of Kerry and day exploring the Irish landscape than with a bowl of hot, fresh seafood chowder.

The Beaufort Bar and Restaurant in Killarney serves up the best bowl in the county, and it has done since 1841.
The same O'Sullivan family has run this restaurant since it's first year in business, and the place hasn't changed too much since then. Their freshly made seafood chowder pairs perfectly with one of the 200 whiskey options they offer. You can't get more Irish than that!
After arriving in Cork, book a hotel in the city and be sure to rest up for the night. You'll need your energy for exploring what most people consider Ireland's most modern city.
Ireland Day 4
Day four of your Ireland trip will be spent in Cork, which is just a few minutes away from Blarney Castle and the Blarney Stone.
While the city has plenty of history around it, it's also sporting a rapidly growing technological industry. Because of this, its considered the most modern city in Ireland.
Breakfast at Ballymaloe House
The Ballymaloe House in Cork is not only known for fresh, delicious breakfasts. It's also home to the oldest hotel room in all of Ireland, and it still looks basically the same as it did back in the 1450s.
While this piece of history is fascinating, their breakfast buffet is also worth your while.
The porridge is made from Macroom ground-stone oatmeal, a traditional Irish bircher muesli is made with its own on-site apples, and it offers homemade yogurt made by its own cookery school on the grounds.
Everything on the buffet is made fresh with ingredients from the grounds, making it a perfect Irish breakfast.
Sightseeing and Tourist Options
Even though it's a relatively modern city, many of Cork's most popular attractions are old military forts and cathedrals.

Some of the most popular cathedrals and military forts for tourists to explore include:
If old cathedrals and military forts aren't for you, Cork has other attractions to offer.
The Lewis Glucksman Gallery
The Lewis Glucksman Gallery is one of the more modern buildings in the city.
As well as being an art gallery, the Lewis Glucksman Gallery hosts a variety of film showings and presentations throughout the year.
St. Patrick's Street is another popular place to explore. Of course, it's named after Saint Patrick, best known for bringing Christianity to parts of Ireland. A multitude of other legends also developed around him.
This street is a prime spot for shopping, dining, street art, and many other Irish cultural experiences, both historic and modern.
Lunch at The English Market
The English Market in Cork isn't a sit-down restaurant itself, but it's still a great place to get some lunch. The market is in a converted Victorian-style hall, and it runs from Grand Parade to Princess Street, also including the markets present on these roads.

There is a multitude of restaurants and food stands throughout the market, and it's a great place to sample some famous Irish dishes, such as Irish blood sausages (drisheen) and dried salted ling (battlebord). I recommend finishing off your meal with a nice cup of tea and some homemade cake.
Dinner at Farmgate Cafe
Located in the midst of the English Market, the quaint Farmgate Cafe offers more delicious, traditional Irish meals with a modern twist. They keep with the theme of locally sourced, fresh ingredients to ensure their meals are as high quality as possible.
Some of this cafe's most popular dishes are corned beef with mustard and parsley sauce, and tripe served with onions and drisheen.
It's a newer restaurant, at least compared to other cafes and bistros in the market. But they definitely know how to cook like a traditional Irishman.
Evening Entertainment Options
Don't forget to visit entertainment venues in Cork. For example, the Triskel Christchurch is a wonderful place to spend a relaxing evening after exploring the city.
The building might be an old church, but it's been converted into a lively and fun performance hall. The interior still has the aesthetic of an 18th-century church, but the performances showcase the more modern side of Irish music.
The performances range from classic jazz to leftfield pop and alternative genres. If you're in Cork during October, it's highly recommended to visit the Guinness Cork Jazz Festival.
You can also circle back to the streets of Cork for some souvenir shopping and a taste of the more local nightlife. But make sure you still get plenty of rest. You have the second part of your Irish road trip to start in the morning.
Ireland Day 5
Aside from the drive along the Ring of Kerry, the Dingle Peninsula towards Belfast is one of the most picturesque parts of Ireland.

It's just south of the Ring of Kerry, so you can start driving along it right from Cork. It's also one of the best ways to get to Belfast, another stop on your Irish vacation itinerary.
Breakfast at Gougane Barra Hotel
This cozy breakfast bistro overlooks the Gougane Barra Lake, a famous site for traditional Irish monasteries. You can enjoy a tasty breakfast made from the freshest and highest quality local ingredients while gazing at the sunrise over the lake.
The Gougane Barra Hotel allows anyone, not just hotel guests, to stop by for a delightful meal of Flahavan's porridge and walnut and treacle bread.
The walnut and treacle bread is the house specialty, passed down from generation to generation in a family recipe. There is a lot of history to enjoy here along with the dishes, both national and familial.
Sightseeing and Tourist Options
The drive along the Dingle Penninsula to Belfast lasts about 5 hours, and there are a great many amazing things to see along the way.
The most common one, of course, is the scenic drive along the peninsula itself. The most popular route is through Slea Head, which offers spectacular ocean views at any time of the day.
Dingle Peninsula
Because of the proximity to the coastline, Dingle Peninsula is a very popular spot for whale and dolphin watching. The Blasket Islands and the Ventry Marina are the most popular spots, and they both offer guided marine tours daily.

If you're lucky, you might even catch a glimpse of Dingle's mascot, a dolphin named Fungi.
While driving along the peninsula, make sure to keep an eye out for the hundreds of beehive huts that are scattered throughout the landscape.
As the name implies, these stone huts have the shape of a beehive, and are usually in groups so they're fairly hard to miss.
They are held together without any mortar and are made of pure stone, so it's incredibly impressive that they are still standing.
Visitors are allowed to walk through them, so it's a great way to learn some Irish history while stretching your legs.
Lunch at Foxy John's
Foxy John's is possibly one of the most popular and oddest pubs in Ireland. The establishment is half an Irish pub, and half a hardware store, which also rents out bicycles during the day.

It's safe to say that this pub is incredibly peculiar, but there's no doubt about its pub food being some of the best in the country.
Some of their specialties include Shepard's Pie (perhaps the most well known Irish dish), bangers and mash, and black and white pudding.
While you wait for your meal, you can browse the little hardware store that's right next to the restaurant. And once you're done eating, you can work off the meal by renting a bike and taking a ride through the peninsula.
Dinner at The Global Village Restaurant
Finish off your second road trip around the Dingle Peninsula at The Global Village Restaurant, one of the most popular restaurants on the peninsula.
They are primarily known for their drink menu, offering a wide and diverse selection of craft beers, proseccos, and whiskey.

However, they also have a delicious selection of Irish cuisine that will pair perfectly with any of the drinks they have.
Their specialties include a rack of lamb, john dory (a type of fish) and prime selections of crab legs. They have something for everyone, whether you're a seafood lover or want to try some more traditional Irish dishes.
Once you're done with your meal, make sure you rest up so you're prepared for exploring Belfast the next day.
Ireland Day 6
Belfast is probably one of the richest cities in Ireland when it comes to history. There is a plethora of museums, historic landmarks, and cultural centers to explore. They'll help you absorb the history and culture of Ireland.
Breakfast at Hastings Culloden Estate and Spa
When you arrive in Belfast, the first thing you want to do is make sure you get a good breakfast. The Hastings Culloden Estate and Spa is the perfect place to grab a delicious meal. You don't have to be a guest to eat here.
Though it should be mentioned that this is a very popular place to stay in Belfast, so it might be worth looking into if you want to stay in Belfast overnight.
The restaurant overlooks the Belfast Lough and Antrim coastline, which has very picturesque views especially in the morning.
Enjoy one of the best Irish breakfasts in town while watching the sun rise over the coast. This is the perfect way to start your day exploring Belfast.
Sightseeing and Tourist Options
As stated previously, there are so many options to choose from when exploring Belfast, and there is something for everyone.

For those that want to take in some more Irish culture and history, there are plenty of museums and and historic landmarks to explore.
Some of the most popular tourist attractions include:
Cultural Attractions
If museums aren't for you, Belfast also has plenty of cultural stops to experience. Some of the most popular ones include:
With such a wide variety of attractions and tourist spots, Belfast truly has something for everyone to enjoy.
Lunch at The Mourne Seafood Bar
The best place to take a break from your busy day exploring Belfast is at the Mourne Seafood Bar. This quaint restaurant tucked away from the hustle and bustle of the city is known for serving the best seafood in Belfast and its laidback atmosphere.
They have their own shellfish beds where they hand select the shellfish for their dishes, and the quality and care shines through, especially in their mussels dishes.
The restaurant also has an online fish shop where you can order some fresh, expertly prepared fish to be at your home when you arrive back.
You can also continue ordering from them if you find you can't get enough of authentic Irish seafood.
Dinner at The Crown Liquor Saloon
Another popular Irish pub is the Crown Liquor Saloon. It's known for both its delicious and authentic pub food, as well as its unique architecture.
The saloon was built back in the 1880s and still has the ornate Victorian look, with extremely detailed wood carvings and Hindu temple details scattered throughout.
The combination makes for a beautifully odd environment to enjoy your dinner and drinks.
Evening Entertainment Options
You'll be eager to explore more of Belfast after the saloon. Luckily, there is plenty of lively nightlife to experience in this city. There are plenty of traditional Irish bars to explore, as well as some more modern clubs to dance at.

Some of the most popular clubs in Belfast include:
Limelight
The Perch Rooftop Bar
The Queen's Comedy Club
If a good drink is what you're looking for, Belfast also has some very popular local bars. You'll get to experience most of them if you go on a Belfast Bar Crawl.
A Bar Crawl is when a tour guide takes you to the best bars in the city in a guided tour, and you get to sample drinks from each bar you go to.
There are a lot of different ones to choose from, so you can find one that best suits your interests and tastes easily.
Ireland Day 7
You'll spend the final day of your week in Ireland exploring the Cliffs of Moher, one of Ireland's most popular natural wonders.
The Cliffs themselves are certainly a sight to behold, but there is much more to do and see when exploring this last sector of Ireland.
Breakfast at The Castle Coffee House and Eatery
Before you set out to explore the cliffs, fuel up at the adorable Castle Coffee House and Eatery.
The cafe is very close to the cliffs, right in the heart of County Clare, and offers a variety of breakfast pastries, sandwiches, and fresh brewed coffee or tea.
They also offer their in-house coffee and tea for purchase, which makes for a great souvenir for yourself or any coffee and tea lovers back home.
Sightseeing and Tourist Options
The first sight to see at the Cliffs of Moher is, unsurprisingly, the cliffs themselves. The entire stretch of this natural landmark is about 18 kilometers (11 miles) and takes about two to three hours to walk along.

The entire trail boasts spectacular views of the coast and the cliffs, and it's the best way to see the entirety of the cliffs.
While the cliffs themselves are the main highlight, there are also plenty of other things to do while you're exploring. Some other sights to see around the Cliffs of Moher include:
Climbing O'Brien's tower
See if you can recognize filming spots from popular movies (The Princess Bride and Harry Potter, to name a few)
Walk to Hag's Head (home of a popular Irish ghost story and watch tower ruins)
Visiting the Cliffs of Moher is the perfect way to end your vacation on a relaxing and historically rich note.
Lunch at Gregans Castle
Also located in County Clare, Gregans Castle is a great place to grab a healthy lunch after walking along the cliffs. It serve traditional Irish meals with a contemporary twist. Gregans Castle only uses the freshest ingredients available.
This restaurant offers a fine dining room and a casual bar. You can have a fancy lunch and relax with a pint right after. The surrounding also includes plenty of places to explore, such as rock climbing, horse riding, and plenty of other activities.
You'll have a tasty and healthy lunch and enjoy easy access to plenty of fun activities.
Dinner at Aniar Restaurant
The Michelin star rated Aniar Restaurant is sure to send you back home with a stomach full of high quality Irish fine dining.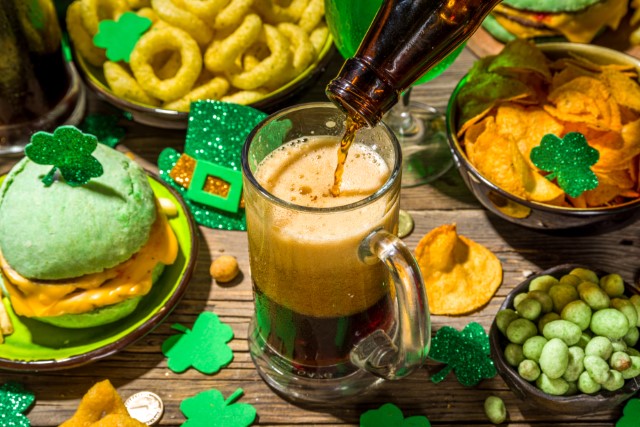 This establishment is definitely one of Ireland's fancier restaurants, but it's well-deserved after exploring the cliffs all day.
Its menu is a tasting menu, meaning you will be able to sample about 20 different dishes. The culinary creations are inspired by the west coast of Ireland.
The menu also offers drink pairing options, so you can try a variety of drinks and small dishes to get a well- rounded experience of fancy Irish dining.
Final Thoughts: 7-Day Itinerary Ireland
Ireland is without a doubt a spectacular and unique country that can't possibly be fully explored and experienced in just a week.
But this itinerary covers the most important elements of an Irish vacation, and will set you up for success as you explore this amazing country.