Tokyo is one of the world's most popular tourist cities. Japan's capital city, Tokyo is home to a plethora of iconic historic and cultural locations, as well as delicious and unique food. With so many different tourist attractions and cultural experiences on offer, it can be difficult to decide which ones to include on your itinerary. But even if you only have a short time to spend in Tokyo, you can still make the most of it.
This 4-day itinerary will go through each day in detail to ensure you get to see the most of what Tokyo has to offer. From purchasing your plane tickets to heading home, each day is carefully planned out to suit a variety of interests and make the most of this short trip.
You can also make adjustments for your budget, your schedule, and any other personal preferences to ensure this trip is best suited to your needs.
ItineraryFrog.com is reader supported. If you make a purchase after clicking a link, I may earn a commission at no additional cost to you.
Tokyo Day 1
The main things that need to be accomplished before your first day in Tokyo are purchasing plane tickets and finding somewhere to stay.

Once those tasks are completed, you can get started on exploring and experiencing this unique and cultural city.
Purchasing Plane Tickets
The main airlines that have connections to airports in Tokyo are American Airlines, LATAM Airlines, and Japan Airlines. There are two main airports in Tokyo that you can fly to: Tokyo International Airport (HND) and Narita International Airport (NRT).
Round-trip tickets usually cost about $469 USD, but you can lower that cost by taking layovers and researching the least expensive flights from different airlines. Before you head to Japan, you should also make sure some other logistics are in order, including: 
Ordering enough Japanese currency (yen) to get you through the vacation
Picking up your pocket Wi-Fi or SIM card at the airport
Validating your Japanese rail pass to help you get around
Make any train reservations to ensure you get to see what you want to see around the city
ItineraryFrog.com is reader supported. If you make a purchase after clicking a link, I may earn a commission at no additional cost to you.
The final thing to do in preparation for your Japan trip is to find somewhere to stay.
Best Hotels in Tokyo For Any Budget
Tokyo has many hotels to choose from, depending on your budget and the kind of experience you're looking for. The most highly recommended area to stay in is the Shinjuku area. That's because it's in a central part of the city and there is a lot to see and do there.

Other recommended neighborhoods are Shibuya and Harajuku, which also have a lot to do, including fantastic nightlife.
The latter two neighborhoods are a bit busier than Shinjuku, which is more on the quiet side. Both areas have plenty to do and many hotels to choose from, so it comes down to what kind of environment you want to stay in for a few days.
The best hotels in Shinjuku are as follows:
Each of these hotels is highly reviewed and surrounded by things to do, so you can definitely find one for your budget and tastes.
ItineraryFrog.com is reader supported. If you make a purchase after clicking a link, I may earn a commission at no additional cost to you.
Breakfast at Sushi Tokyo Ten
What better way to start off your Tokyo vacation than with some authentic Japanese sushi? You read that correctly: you'll be having sushi for breakfast at Sushi Tokyo Ten.

This popular trendy restaurant has an omakase concept, which essentially means that you let the chef decide what you eat. From the ingredients to the methods used to prepare them, all elements of your first meal in Tokyo will be decided on by a professional sushi chef.
The restaurant has only one option for breakfast from 7 to 10 am. However, with its omakase concept, there are many different creations that can be made. The dish is called bara chirashi. It's essentially ten different ingredients cooked together and served in a bowl of rice.
For example, you could get a combination of fresh sea urchins, cucumbers, and many other ingredients all mixed together with a sweet and thick umami sauce, all served on top of rice. You never know what you're going to get when you eat here.
Sightseeing and Tourist Options
After your wild card breakfast, you'll start the day off by exploring the Shinjuku neighborhood. It's a popular tourist spot for many reasons, and there is something for everyone to enjoy. The first stop is a great place to walk off that filling omakase breakfast: The Shinjuku Goyen National Garden.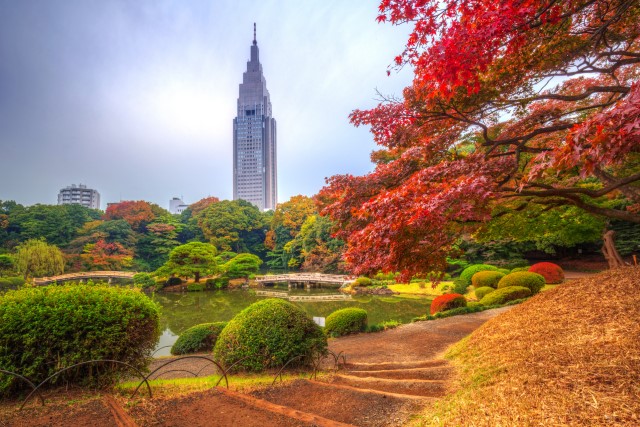 The garden is 143 acres of gorgeous foliage and greenery. It's one of Tokyo's largest parks and a very famous spot to see the cherry blossoms when they're in bloom. While you're exploring the garden, you might come across a purikura booth, which are photo booths that apply fun filters to your pictures, providing an inexpensive and fun souvenir to take home.
When you're finished exploring the garden, head on over to the Samurai Museum. Don't miss out on this if you're interested in Japanese culture and history.
The Samurai Museum features authentic Samurai battle armor and equipment. The staff will even let you try a few pieces on if you're very careful.
The museum is relatively small but holds a lot of history. It's a great place to start learning about Japanese culture.
Last but not least, the Tower Records Music store in Shinjuku is a very famous music spot. It has one of the largest CD collections in the world.
The Tower Records Music store has a plethora of music from each genre, era, and artist. There is bound to be a hidden gem for everyone there.
Lunch at Ippudo Ramen
While you're getting culturally acquainted with the city, keep the experience going with lunch at Ippudo Ramen. First established in 1985, this restaurant is considered one of the best places for authentic ramen in Japan.

The restaurant has also been featured on many popular Japanese and national television shows, such as Tokyo TV and TBS. It has won numerous awards and features multiple international locations, holding the top title for authentic ramen at each one.
The Shiromaru Classic and The Akamaru Modern are two of its signature dishes. It also has plenty of other delicious types of ramen for you to try.
Dinner at The Shinjuku Robot Restaurant
Finish off your first day in Tokyo with a bang and have dinner at The Shinjuku Robot Restaurant. Locals consider it be the epitome of Japanese pop culture. Flooded with colorful neon lights and techno music, this restaurant hosts live performers and highly advanced robots.

Patrons mainly visit this restaurant for the "quirky vibes", but its food and drinks also fit the mood and taste delicious. Some of their most popular dishes include Robot Sushi and traditional Japanese bento box dinners.
This restaurant is incredibly popular with tourists and locals alike, so I highly recommend booking a reservation in advance. Tickets cost about 6,450 yen ($100 USD) per person, but you get a lot out of that price.
Evening Entertainment Options
If you still want more out of Tokyo nightlife, Shinjuku is the place for you. There are plenty of unique bars and shopping areas to explore in this ward. There are also a few areas even offer late-night tours.
You should also check out Golden Gai, a popular bar area. This section of the city is packed with multiple tiny bars and lots of atmosphere.

Each bar has its own unique aesthetic and only seats six to ten people, so the area is designed to keep patrons moving along the street to see as many bars as possible.
If you want to find the best bars in the area, you can sign up for a Golden Gai food tour. The tour will take you to the most popular bars and izakayas (a type of bar that serves inexpensive snacks and drinks) while telling you about the history behind them and a few fun facts.
Another bar in the area is popular for a much different reason- it was a set in the popular 2003 film "Lost in Translation".
The New York Bar & Grill is located inside the Park Hyatt hotel, and it's known for its breathtaking views of the Tokyo skyline and luxurious cocktails. The bar also has nightly jazz performances from local musicians, providing a very movie-like experience.
Tokyo Day 2
Your Tokyo vacation continues with exploring some of the more modern parts of Japanese culture.

While tradition is a very important part of the country's culture, the most ancient traditions have also merged with modern pop culture, which makes for some very interesting local gems to explore and experience.
Breakfast at Cinnamoroll Café
One of the many things that makes Japan unique is the number of character cafes they have. Character cafes are essentially adorable cafes that are centered around one specific, equally adorable character. From their food to the aesthetic, everything is centered around one certain cartoon character from Japanese culture.
In this case, the Cinnamoroll Café is based around a cute, puppy-like character named Cinnamoroll. The café has delicious breakfast food and drinks all around the Sanrio character, including pastries that look like the character and signature coffees.
Sightseeing and Tourist Options
After your delicious breakfast, the exploration of the modern meeting the traditional starts with the Meiji-Jingu Shrine.

The Meiji-Jingu Shrine is Tokyo's largest and most famous shrine, and it's meant to honor and celebrate Emperor Meiji and his wife in the afterlife. Emperor Meiji is highly revered in Japanese culture and is regarded as the emperor that brought Japan into the modern age.
While shrines have been a part of Japanese culture for centuries, this shrine is fairly new and was recently erected in the 20th century. It's surrounded by over 100,000 trees and has a pair of large torii gates (gates that mark the transition from the secular world to the sacred world) at the entrance.
What to Do While There
The area provides a peaceful escape from the bustle of the city. It almost feels like you're entering another world. Aside from witnessing the shrine that consists of donated sake (Japanese alcohol) barrels, statues, and offerings from the locals, there are many fun shrine-related activities to do.
Some of the most popular activities are purchasing omamori (good luck charms) and making wishes with ema, which are wooden plaques you write a wish or dream on.
The garden also has a section filled with irises, the favorite flower of the Emperor and his wife. It's a beautiful and serene place to take in one of the most important aspects of Japanese culture.
After going back in time for a bit, you can experience the more hip and modern side of Japanese culture. Just head to the city of Harajuku.

This city has two different districts that are famous for modern Japanese culture in different ways: Takeshita Dori and Omotesando.
Takeshita Dori is filled with trendy fashion, food, and teenage pop culture. It's the birthplace of trends such as bubble tea/boba, rolled ice cream, and other food trends that have come to the United States over the years.
If Takeshita Dori feels a bit too young for you, then you might enjoy Omotesando more. It's also a more modern section of Tokyo, but it's marketed towards a relatively mature and luxury-focused crowd.
There are a number of famous fashion buildings, stores, and fancy cafes to explore and sample. It's also a hub for street fashion and street photography, which means there are some amazing photo spots.
Lunch at Himawari Zushi Shintoshin
A great place to take a break from exploring both traditional and modern Japanese culture is Himawari Sushi, a popular restaurant that features conveyor belt-style sushi.

This means that sushi, noodles, and other various dishes slowly pass by your table on a conveyor belt. You then take what you want, weigh it, and pay based on how much each dish weighs.
The restaurant has a variety of different types of sushi and other dishes for you to choose from, all at affordable prices. Conveyor belt-style sushi is becoming increasingly popular in Japan. This popular eatery serves the best quality for the best price according to locals.
Dinner at Ichiran Ramen
Another popular ramen restaurant, Ichiran Ramen is famous for its pork bone ramen and its food booth atmosphere.

Most ramen restaurants in Japan have a "food stall" design, meaning the setup consists of a long and narrow corridor with separate cubicles for each customer on either side.
The staff interacts with the customers by raising/lowering a bamboo curtain, from taking their order to collecting the payment.
Their ramen dishes usually consist of their famous bone broth, their extremely top-secret red sauce, and a little bit of soy sauce. The meat, vegetables, and other ingredients are all up to you, but every option is guaranteed to be tasty.
Evening Entertainment Options
Video games are a huge part of Japanese culture. One of the biggest video game companies, Nintendo, was founded in Kyoto. As a result, it makes for some very unique evening entertainment down in Shibuya.
Shibuya is a popular tourist area for its hotels, restaurants, and unique sights to see and things to do. One such activity is Street Kart Shibuya, which is essentially a real-life version of the popular video game Mario Kart.
You ride in your own Go-Kart on the streets alongside real cars, and cartoon character costumes are highly encouraged.
It can be a bit nerve-racking at first. However, the routes are all planned out and safely blocked off, so it ends up being tons of fun. You will have to book in advance and obtain an international driving permit, but you can get this from AAA as you would if you were renting a car. 
While you're in the area, Shibuya also has a lot of shopping centers and other cultural landmarks. For example, the famous Hachiko statue is very close to the equally famous Shibuya Crossing.

The Hachiko statue is a statue of an Akita dog that famously waited for his owner 10 years after he passed away, and the statue is meant to honor his loyalty and friendship.
Right near the statue is Shibuya Crossing, one of the busiest and, frankly, most chaotic crosswalks in the world. Up to one thousand people cross the street during each light, and it's definitely a sight to see.
You can catch a birds-eye view of the strangely beautiful chaos from Mag's Park. It's a roof terrace at the Shibuya 109 department store. It costs about 300 yen ($2 USD) to enter, and once you're done, you can do some shopping inside the store.
Tokyo Day 3
During your third day in Tokyo, you will be traveling back in time for a bit longer as you head to the Asakusa area.
This neighborhood is as traditional as you can get, with locals and tourists alike dressing in traditional Japanese clothing and walking amongst centuries-old architecture.
It's about a 40 minute metro ride from Shinjuku, but double-check maps to find the best route.
Breakfast at The BREIZH Cafe Creperie
Before you head out to Asakusa, make sure you stop by for a delicious crepe breakfast at The BREIZH Cafe Creperie in Shinjuku. They serve both sweet and savory French buckwheat crepes, which makes them extra light, crispy, and tasty.
One of their most popular dishes is the Dame Asperge galette, which has smoked salmon, broad beans, white asparagus, a sunny-side-up egg with cheese, and Hokkaido cream. They also offer terrace seating, so you can have a lovely view of Shinjuku while you enjoy your breakfast.
Sightseeing and Tourist Options
After you arrive in Asakusa, the first place you must visit is the Senso-Ji Temple. It's one of the oldest and most important Buddhist temples in Japan, dating back as far as 628 AD.

The temple itself is a rather large complex with multiple places to see. Make sure you enter here for easy access to the rest of the area.
The entire area is a busy district, for both locals and tourists, so be aware of the crowds as you're shopping. It will be even more crowded on weekends, so if crowds aren't your thing, you might want to schedule this neighborhood for another day.
Kaminarimon Gate
The first spot to see in the temple is the Kaminarimon Gate. It's a large gate with statues and a huge red lantern in the center. This is an awesome area to take pictures before you exit onto Nakimise Shopping Street, where you'll find adorable, unique shops and food stalls to explore.
A popular dish is melon pan, which is sweet fluffy bread that has a cookie-like exterior. They come in a variety of flavors as well, such as chocolate and strawberry, and it makes for a great mid-morning snack.
Hozomon Gate
If you keep following the street, you will eventually get to the main temple area. You will first enter through the Hozomon Gate (a two-story gate with upturned corners on the roofs) and see a five-story pagoda (traditional Japanese building) on your left-hand side.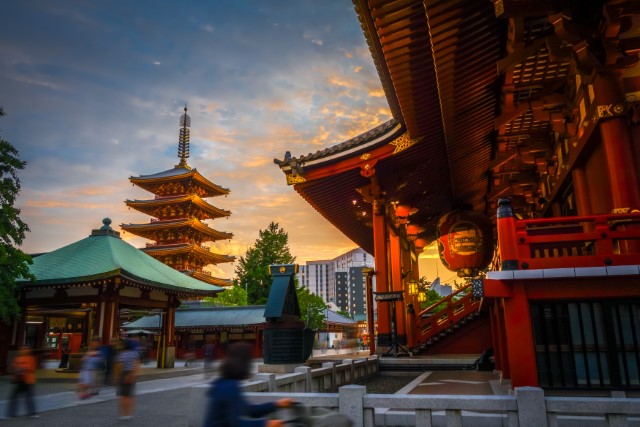 After that, make your way into the Senso-Ji Temple itself and explore it from the inside. You can participate in the tradition of receiving a fortune. However, you have to make a 100 yen (0.67 cents USD) donation in order to appease the spirits that live in the temple.
Tokyo Skytree
Once you've finished exploring Asakusa, take a short subway ride to the Tokyo Skytree, the tallest building in Japan.

It's 634 meters (over 2,000 feet) high and is the second tallest building in the world, just behind the Burj Khalifa in Dubai. You board a lift up to the top floors for a breathtaking 360-degree view of the Tokyo skyline.
You can choose from three different ticket types. These are the observation deck at 350 meters (over 1,000 feet), the deck at 450 meters (almost 1,500 feet), and a combo ticket for both decks.
You should purchase the tickets in advance since they're a bit less expensive online. You can skip the line at the tower.
Lunch at Namiki Yabusoba
Asakusa has a lot of popular lunch spots, but one of the most popular is Namiki Yabusoba. This little soba noodle restaurant has been around for over a century. It's famous for serving some of the best soba noodles in the world.
Soba noodles are made from buckwheat and are said to have multiple health benefits, such as improving heart health and reducing inflammation. They can be served either hot or cold, and this restaurant makes them delicious either way.
Dinner at Ginza Kagari
The Ginza area is very close to the Tokyo Skytree, and it's a very popular shopping and dining spot. After shopping around for a bit, stop for dinner at a small ramen shop called Ginza Kagari.

They specialize in chicken-flavored ramen, which isn't very common in Japan, and the locals recommend chicken broth ramen with truffle.
Ginza Kagari is also famous for the size and speed of their restaurant. They only have eight seats surrounding a few chefs cooking the ramen.
Since they have such a small number of seats, and a line usually forms out the door. The chefs work at top speed to take your order, cook it, and collect your payment. You can expect to be fed and out the door in 10 to 15 minutes.
Evening Entertainment Options
A fun option for after dinner is heading over to the Akihabara store for some technological, anime, and manga merchandise.
There are a ton of stores to browse for fun gifts and souvenirs. Even if you don't buy anything, there are plenty of video game stores and arcade machines you can play at.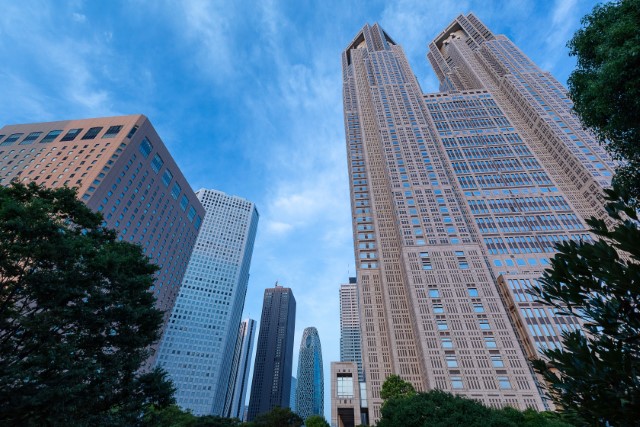 If you're ready to head back to Shinjuku, consider stopping at the observation decks at the Tokyo Metropolitan Government Building. The decks are free and open to the public. As a result, there might be a bit of a line. However, the decks usually aren't as busy when nighttime rolls around.
There are a few cafes and small restaurants on the decks. Get a bite to eat or a hot drink while gazing out over the skyline. It's a great way to wind down after your third day in Tokyo.
Tokyo Day 4
Your last day in Tokyo is going to be a packed one, full of fun museums and delicious food.
You will explore some places that put Tokyo on the map and made it a significant cultural presence, both in Japan and around the world.
From digital museums to bridges with beautiful views, it's sure to be a great way to end a unique vacation.
Breakfast at Coffee Kizoku Edinburgh
The final day in Tokyo will need to start off quickly since there is so much to see in so little time. But just because you need to move fast doesn't mean you can't have a tasty breakfast.
The best restaurant that perfectly rides the line between quick and tasty breakfast is Coffee Kizoku Edinburgh in Shinjuku. According to locals, this little coffee shop serves some of the best breakfasts in Shinjuku. You'll feel like a Japanese aristocrat from the moment you walk in.
They serve three different types of quick breakfasts: a toast set, a bread rolls with eggs set, or a rice soup set. Each one comes with a small salad, a scoop of ice cream, and your choice of drink. You'll feel satisfied and ready to take on the day.
Sightseeing and Tourist Options
Once you've finished breakfast, catch a train to the Odaiba district (about 45 mins from Shinjuku) and head towards the TeamLab Borderless museum.
It is a very unique museum in that its a digital art museum. This means that all of its artwork and displays are created by using digital/technological materials and methods.

Right from the minute you walk in, you are bombarded with colorful lights, loud music, and breathtaking projections. There truly is nothing else like it in Tokyo and is considered a must-see for tourists.
But since it's so popular, this museum can get very crowded. I recommend purchasing your tickets ahead of time.
After the Museum
After you're done exploring the museum, the Odaiba district itself is also a sight to see. It's a man-made island in Tokyo Bay and has many unique buildings, shopping areas, and activities to see and do.
For example, Palette Town (a short distance from the museum) has a shopping mall called Venus Fort. The mall is designed to look like an 18th-century European town, something you definitely don't see every day.
Lunch at Tsukiji Fish Market
You will have to make a quick trip back to the mainland for lunch, but it will definitely be worth it. The Tsukiji Fish Market is the largest and most famous fish market in Tokyo, famous for providing some of the freshest sushi in the world.

It's a mishmash of multiple restaurants and shops all clobbered together with winding alleyways. Each one has a unique style and specialty, so you can sample multiple different types of sushi, sashimi, rice bowls, and seafood.
There are also many shops that sell food-related items, so if you or someone you know is interested in cooking, it can be a great place to pick up a gift or souvenir.
Dinner at Sakura Japanese Restaurant
Your last meal in Japan is sure to be memorable at the Sakura Japanese Restaurant back in the Odaiba district. They serve freshly caught seafood, usually seafood that was caught only a few hours ago, in all of their dishes.
This restaurant is mainly known for its delicious tempura, but they offer multiple different dishes in their two dining set options.
Each dining set includes authentic Japanese dishes and ensures that you get a traditional dining experience. But the real selling point is the views of Tokyo Bay and the two bridges connecting it to the mainland, right outside their windows.
There is no better place to dine and end your Tokyo vacation with.
Evening Entertainment Options
If you want to get a little bit more out of Tokyo, there's no better way than meandering along Rainbow Bridge and the Bridge of Dreams, the two bridges that connect Odaiba back to the mainland.

As the name suggests, the Rainbow Bridge is a suspension bridge that's lit up with the colors of the rainbow each night. The north side has amazing views of Tokyo Harbor and Tokyo Tower, while the south side has great views of Tokyo Bay and, if you're lucky, Mt. Fuji.
The Bridge of Dreams also offers amazing views of Tokyo Bay, to the point where some locals say it feels like a dream at night. Both bridges are great for pictures and to wind down from your packed day. Be aware that the Rainbow Bridge is both for traffic and pedestrians, while the Bridge of Dreams is only for pedestrians.
Final Thoughts
Tokyo is a very unique city, and everything from the food to the architecture speaks to that fact. While it's well near impossible to experience the entire city in four days, this itinerary provides a summary of the most highly recommended spots to see and experience. Try this 4-day itinerary in Tokyo when you make your visit.