Looking for a family-friendly getaway where you can connect with nature in New England? Look no further than Acadia National Park. This amazing place is located in the beautiful Bar Harbor region on the stunning coast of Maine. This park has been dubbed the Crown Jewel of the North Atlantic Coast. It offers visitors a glimpse at varying habitats and coastal landscape. You'll explore evergreen forests, ponds, granite cliffs, and dramatic coastlines! Keep reading to discover my 3-day itinerary for Acadia National Park!
With convenient access to the town of Bar Harbor, families will enjoy the scenery and wonder of this area. And you won't be the only ones. This serene corner of Maine attracts over 3.5 million visitors a year!
In this 3-day itinerary, Acadia National Park is yours to discover. You'll enjoy full days reveling in the iconic beauty of the rugged coast of Maine. It's the perfect family-friendly getaway.
Trip Outline & Resources for Your 3 Day Trip to Bar Harbor
How to Get There and How to Get Around Acadia National Park
Where to Stay During Your Trip
Day 1 – Park Loop Road, Sand Beach, Jordan Pond House, Nature Center
Day 2 – Cadillac Mountain, Bar Harbor, Bar Island
Day 3 – Harbor Boat Tour, Harbor Shore Path, Bass Harbor Lighthouse
Getting to (and around) Acadia National Park
Upon arrival in Boston, you will have two options for reaching Acadia National Park.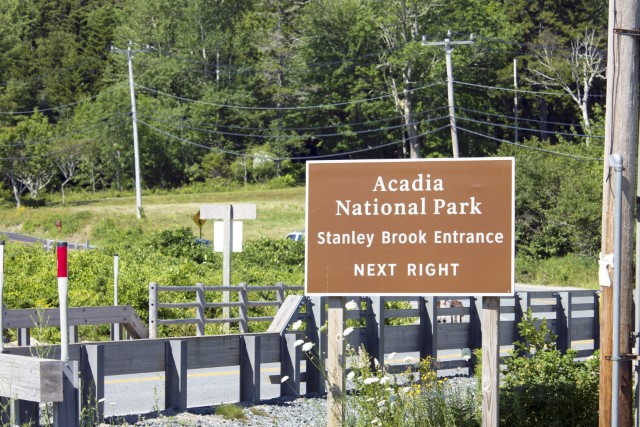 Option 1 is to rent a car in Boston and drive up Maine's Coastal Route 1, a journey of about seven hours that winds through picturesque towns and along the craggy coastline.
Option 2 is to catch a connecting flight from Boston Logan to Hancock County–Bar Harbor Airport, which is then a very short distance to the park.
No matter how you decide to get there, it is recommended that you have a car to explore in and around Acadia. This will give you the freedom to come and go as you please and make it in and out of Bar Harbor easily!
ItineraryFrog.com is reader supported. If you make a purchase after clicking a link, I may earn a commission at no additional cost to you.
Where to Stay During Your Trip
Are you hoping to stay as close to Acadia National Park as possible? The best option when choosing where to stay would be one of the campgrounds located within the park's outer limits.

There are five campgrounds conveniently located within the park, ranging from backcountry tent camping to spots with full RV hookups. The summer season is extremely popular for camping at Acadia, so make sure to book a reservation with your campground of choice ASAP. 
If roughing it in the wild is not your preferred method for staying near the park, the town of Bar Harbor is less than a 10-minute drive away and has a wide range of hotels and AirBnbs.
While not as conveniently located for accessing the park, you will have many more common amenities when you stay in Bay Harbor. You just step out your front door and directly into town!
ItineraryFrog.com is reader supported. If you make a purchase after clicking a link, I may earn a commission at no additional cost to you.
Day 1: Acadia National Park
Hulls Cove Visitors Center
Make a visit to the Hulls Cove Visitor's Center your first stop upon arriving at Acadia National Park. This will be the place where you can purchase a car pass and learn a little about the history and geography of the park.

Rangers are present to answer questions, as well as guide you through the interactive exhibits. Pick up a flyer to see what ranger-led activities are available so that your kids can earn their Junior Ranger Badge! 
Note: The car entrance fee for Acadia is $30 per vehicle and is good for 7 days after purchase
Park Loop Road
This 27-mile stretch of road loops through Acadia National Park, connecting the visitor's center with many of the mountains, lakes, and forests that are in the park.

This is a great route to spend the day familiarizing yourself with the park and its activities. Some of the popular destinations include:
Sand Beach: Sand Beach is a small but beautiful beach nestled between two mountains. Its rocky shore varies by the tide and allows visitors to search for shells and unique sand creations. While here, hike the Ocean Path to Otter Point, a 4-mile roundtrip walking trail along the coast that reaches a fantastic viewpoint. 
Lunch at Jordan Pond House: Further down the Park Loop Road is Jordan Pond, a glacier-formed shallow lake that boasts clear water and magnificent surrounding horizons. Grab lunch at the Jordan Pond House, the only functioning restaurant inside of Acadia that is backdropped by this incredible scenery.
Nature Center: Inside the nature center is the Wild Gardens of Acadia and some truly enchanting walking trails that will guide your party through the forests of Acadia as you learn about the plant and wildlife that call this area home. 
Day 2: Acadia National Park & Bar Harbor
Wake up before the sun as today will be an early start. Grab a bite to eat or pack a picnic breakfast as you load the family into the car and head towards the perfect sunrise viewpoint.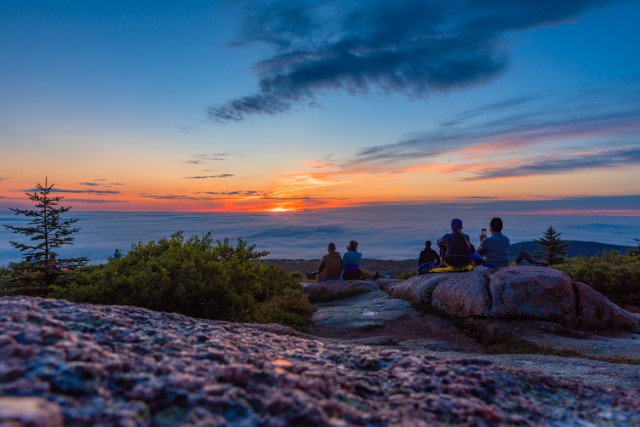 Cadillac Mountain
Cadillac Mountain is the highlight of Acadia National Park. It is the highest point along the North Atlantic seaboard at over 1,500 feet, and it is the first place to see the sunrise in the United States for a majority of the year.


Once at the top, visitors will be greeted by a panoramic view of Acadia National Park and the surrounding region.
Watch the sun crest the horizon and douse the landscape in its glow. This is a tourist favorite when touring through Acadia. 
Head to Bar Harbor for Lunch and Shopping
After exploring Cadillac Mountain and the surrounding area, hop back in the car and head to Bar Harbor.
With such an early start you will likely be hungry, so chow down on some authentic seafood at The Stadium Restaurant and peruse through the local shops before beginning your next adventure. 
Walk to Bar Island 
 While it may seem like you have left the national park, the next destination is still included! A unique destination and a beloved activity for many is to walk to Bar Island.

Located at the end of Bridge Street in town, a rocky path becomes walkable only at low tide. Walk the stretch to reach the island where you will get a stunning view of Acadia and the coastline.
If feeling adventurous, hike to the top of the island for an even better observation. But make sure to check the low-tide schedules so that you do not get stuck on the island during high-tide! It's an essential part of any Acadia National Park itinerary.
Day 3: Exploring Bar Harbor & The Surrounding Area
Sleep in and have a more relaxing morning than yesterday. Then, it's time to start on your day 3 adventures. Today, you will be exploring the region through the eyes of Bar Harbor. 

Harbor Boat Tour
Set sail on a Bar Harbor boat tour! Once aboard, you will cruise through puffin territory.
On this amazing tour you will visit natural locations only accessible by water and boat. Bring your camera, and enjoy the breathtaking scenery aboard the ship.
This is a great way to see a different side of Acadia National Park that the whole family can enjoy! 
Lunch in Bar Harbor
After your cruise through the surrounding waters, stop for a bite to eat at the local diner Everyday Joe's.
This is the perfect spot for some comfort food.
Take in the local atmosphere and reminisce on the exciting events that you've already shared. 
Bar Harbor Shore Path
The Bass Harbor Shore Path is a well-paved, half-mile walking trail that stretches from one end of Bar Harbor to the other.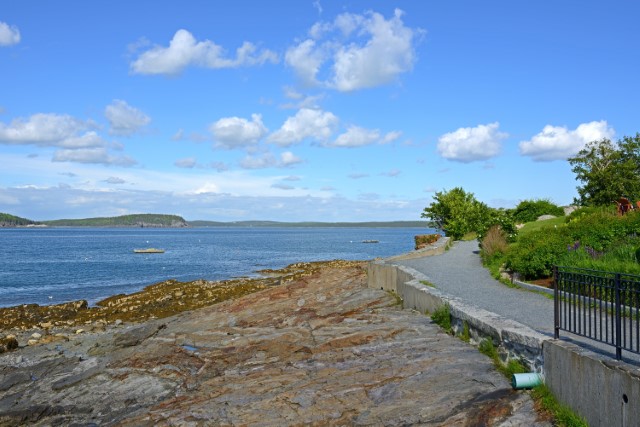 There are several viewing points of the harbor on this path. You'll enjoy lots of open green space where the kids can run around.
Watch the local fisherman working on their daily catch.
Take in the architecture and greenery that surrounds you. This is a perfect relaxing stroll along the coast of Maine. 
Wrap Up Your Acadia National Park Itinerary: Bass Harbor Head Lighthouse
For the last item on your Acadia National Park itinerary, hop back in the car to see the sunset at the Bass Harbor Head Lighthouse. Built in 1858, this historic lighthouse stands 56 feet above the ocean below.
Learn about the grounds and the building's history before having the ultimate sunset view of the harbor and the surrounding coastline. This will be the perfect ending activity for your time in and around Acadia National Park.