Enjoy an Unforgettable Weekend in Sin City with this Amazing 2 Day Tour of Las Vegas, Nevada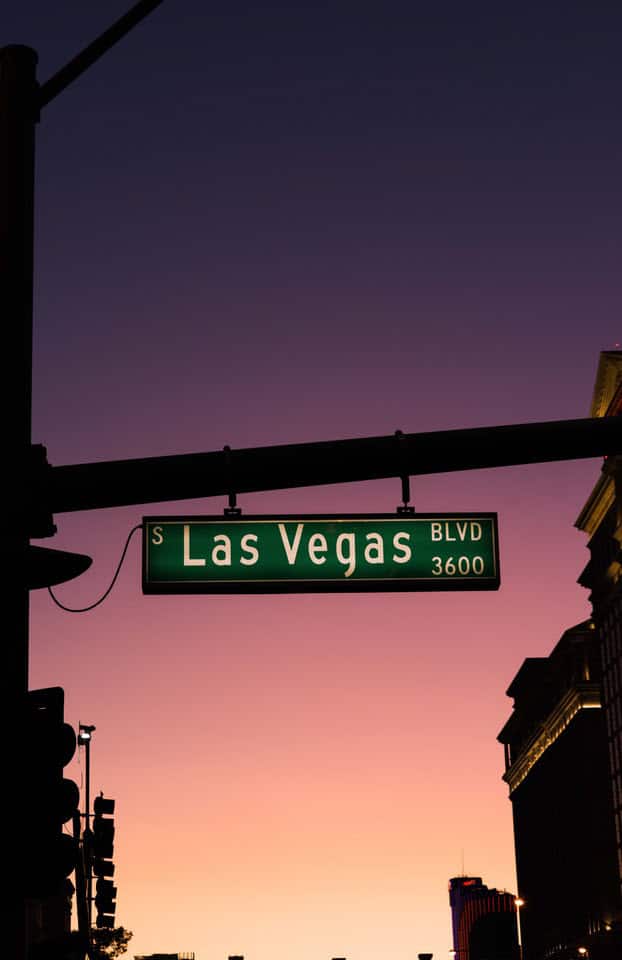 Ah, Las Vegas, or "Sin City" as it is famously known as. This flashy, bright-lights city is the American headquarters for a good time. Stroll along the world famous Las Vegas Strip beneath glittering lights, shop at some of the most iconic stores in the world, eat at outstanding restaurants and enjoy the elaborate nightlife on a fun-filled weekend in Vegas.
Just remember that what happens in Vegas, stays in Vegas!
You may be thinking "There's no way I'll see everything during a 2 day itinerary, Las Vegas has way too much to offer!"
The truth is that 2 days in Vegas is an ideal amount of time, as the atmosphere is go, go, go!
It will be a busy 2 days of sightseeing, eating, and visual delights as you partake in everything that Vegas has to offer! While one could return to Vegas many times and never do the same thing twice, in this Las Vegas weekend itinerary we've included all the information you need and a checklist of things to see and do (and what order to do them in) so you can leave feeling you had the perfect 2 days in Vegas.
Trip Outline & Resources for Your 2 Day Trip to Las Vegas
ItineraryFrog.com is reader supported. If you make a purchase after clicking a link, I may earn a commission at no additional cost to you.
Where to Stay During Your Weekend Trip to Vegas
Flights will arrive at the McCarren International Airport. Renting a car is easy, but is considered by most travelers visiting Vegas as unnecessary. Taxis and rideshares such as Uber and Lyft are the main transportation options used to get around the city.

Hail a cab at the airport and head to your hotel. 
Staying at a hotel on The Strip is what we recommend, as it will conveniently place you within walking distance of many of the sites you will be visiting.
Rooms are cheaper farther from the center of Vegas, but the money you'll save on a room you'll spend on transportation, so choose convenience and book a room on The Strip. There is no shortage of hotel choices depending on the budget you have and the experience that you are looking for.
If you're overwhelmed and not sure where to start, here's a quick list of my three top choices (something for every budget):
Trip Budgeting Tip
Be aware of resort fees. These are not typically included in the hotel price that you will be quoted when booking your room online but are a $30-$50 per-day fee tacked on at checkout. It's pretty much the standard in Vegas, but this catches a lot of first-time visitors to Las Vegas by surprise, so if you're on a tight budget you have to plan for it.
There are so many ways to spend (and lose) money in Las Vegas, that it's a good idea to build in a buffer when you budget for your trip … even if you'll only be in town for a couple of days.
ItineraryFrog.com is reader supported. If you make a purchase after clicking a link, I may earn a commission at no additional cost to you.
Day 1 in Las Vegas
The first day in Vegas will be a full one. So you'll want to properly fuel up before embarking on today's adventures.
The best way to do this is to eat breakfast at a classic hotel buffet. These offer an all you can eat option for some of the best foods in town! After breakfast, strap on your walking shoes and step outside onto the Strip! 
The Strip

The Strip is the epicenter of entertainment while in Las Vegas. This 4-mile promenade takes you on a cultural journey underneath glittering lights as different sections of the strip have different themes.
From Venice to Paris, upscale to flashy, walking the Strip will be a visual treat for your eyes as absolutely everything is over the top.
In between hotels, enjoy various street performances and take pictures with actors in elaborate costumes.
There is no limit to the things available on the Strip, so we have compiled a list of some of the must-hit items that you should include during Day 1 itinerary on the Las Vegas strip:
The Venetian Hotel
Be transported to Venice, Italy as you cross over the threshold of this exquisite hotel.
Constructed to represent the Venice Canal, visitors can shop, dine, and people watch all under the dazzling overhead "stars."

Hop aboard a gondola to cruise down the indoor river while being serenaded by your guide! 
The Forum Shops at Caesar's
With over 160 upscale shopping venues, the Shops at Caesar's are the premier shopping destination while in Las Vegas.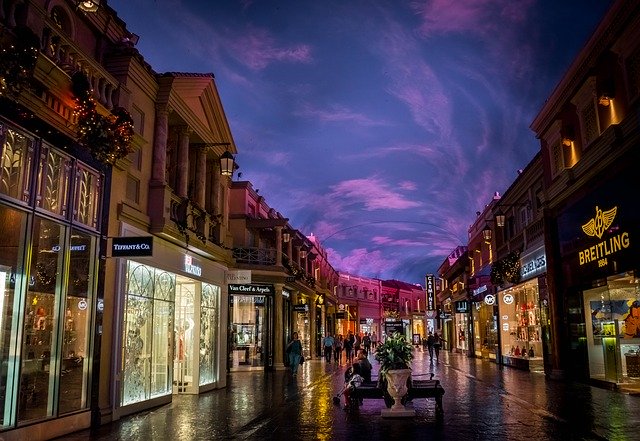 Among the heralded shops are famous brands such a Louis Vuitton, Gucci, and Versace, just to name a few.
Whether you window shop or choose to spend your hard-earned cash, you are sure to find an item to commemorate your trip! 
The Bellagio Water Show

One of the most famous hotels on the Strip, the Bellagio, is home to one of the most iconic tourist attractions in all of Las Vegas, the Bellagio Water Show.
Take in this impressive choreographed water show featuring lights and music in the fountain at the front of the hotel. The show beings every 30 minutes on weekdays, and every 15 minutes on weekends.
While it is best viewed at night, consider stopping by multiple times as the show varies each time! It's a cool way to break up your first day and see how this landmark varies depending upon when you visit it.
Great destination for iconic Las Vegas photos!
Try Your Luck in the Casinos
Around every Las Vegas corner is a casino. There are a variety of sizes but the gist is always the same (sorry hardcore gamblers, but it's true).

Whether you sit down for a hand at a blackjack table or hit up the penny slots, see if you can hit that much sought-after jackpot! 
Make sure that when you gamble, you begin with a budget (something you're comfortable losing) and stick to it. It's easy to get caught up in the excitement and put more money on the table than you're comfortable losing. The city was built on this!
High Roller Ferris Wheel
After a long day of exploring the Strip by foot, return to your hotel to freshen up for a night out on the town. Your first stop will be an observation deck unlike any other. 

View Las Vegas from the air as you ride the High Roller Ferris Wheel located at the LINQ hotel right off of the central Strip. Known as the world's highest Ferris wheel, soar 550 feet above Las Vegas as you watch the city come to life with an unobstructed 360-degree view. 
Buy a drink at the bottom to take with you, or upgrade your ticket to a pod with a built-in bar for a 30-minute ride you are sure to remember!
Dinner at the Eiffel Tower

Maybe getting to Paris to see the real deal isn't in the cards.
Well, the Eiffel Tower restaurant on the Las Vegas Strip is an excellent alternative.
What's even better about this version is that you can eat inside of it!
With spectacular views overlooking the Bellagio Fountains, diners will receive excellent service.
Partake in upscale French Cuisine with an atmosphere that is perfect for any occasion.
Night Out on the Town
The nightlife scene is where Las Vegas truly shines. From laid-back cocktail lounges to fast-paced nightclubs, Las Vegas has it all! Do some research on where you might like to end up or talk to a promoter walking around the Strip. There really is no wrong way to go!
Day 2 of your Las Vegas Itinerary
Grab a bite to eat at Hash House A Go Go located inside of The Linq Hotel (this is where you visited the ferris wheel). Then set out to visit an entirely new part of Las Vegas today.

Just like yesterday, you will want those comfortable walking shoes as you will be covering a lot of mileage again! 
The Mob Museum
Step into this immersive exhibit detailing true stories of the Mob, from its birth to today's headlines. Watch informative videos, view display and artifacts, and pretend to be a member of the Mob or the police in real situations. This exhibit will excite you as well as giving informational facts on the "bad guys". 
Fremont Street
After visiting the Mob Museum, walk a couple hundred feet over Fremont Street, the historic downtown of "Old Vegas". This 9-block entertainment strip includes casinos, live music, fine dining, and the famous Viva Vision show. Zipline above the pedestrian mall as you experience one of the top places to visit in all of Las Vegas.
Dinner at the Top of the World
Situated at the northern end of the Strip is the Stratosphere Tower, the tallest building in Sin City and a must-visit stop of your 2 day Las Vegas itinerary.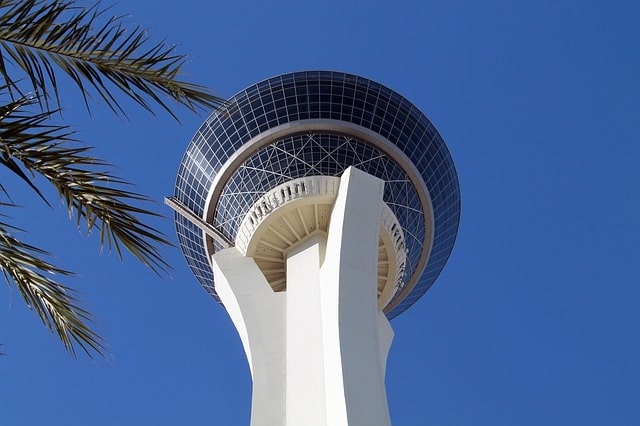 Stretching up more than 1,100 feet, the Top of the World is a revolving restaurant located at the top. While dining on an award-winning menu, enjoy a 360-degree view of downtown Las Vegas as you spin every 80 minutes. 
Go to a Show
No trip to Las Vegas is complete without seeing one of the world's top-rated shows that call the Sin City home. And even if you aren't sure which show you want to go to, by the end of your second day in Vegas you will have seen advertisements for every show in town.

There are performances for every skill imaginable and age level in your party.
See a concert, magic tricks, or a circus-themed production just to name a few. However, the name Cirque de Soliel reigns supreme in these parts with the highest-rated 6 imaginative acrobatic shows currently in production.
But whatever show you choose, you are sure not to be disappointed!