Explore The Rugged Natural Beauty of Iceland with Your Kids on This Epic 4-Day Adventure
Welcome to Iceland, home of cascading waterfalls, bustling cities and unique opportunities for the whole family to explore the natural world and get to know one another a little better. It is not hard to see why Iceland has grown in popularity over the last few years. Images of its natural beauty have taken the internet by storm.

Iceland is a great place to take a family to enjoy all of the beautiful landscapes that make this country so majestic, and on this 4 day itinerary Iceland is yours to discover. 
After arriving at the Keflavik Airport in Grindavik, connect with a rental car company if possible. Public transportation is spotty in Iceland, so a rental car (while expensive) is your best option. You will then drive yourself to Reykjavik.
This itinerary is the best fit for those that have the capabilities of renting a car while in Iceland.
If this is not a possibility, there are multiple options for reaching all of these places. You could try a tour companies and by planning ahead to arrange transportation.
ItineraryFrog.com is reader supported. If you make a purchase after clicking a link, I may earn a commission at no additional cost to you.
Day 1: Explore Reykjavik with Your Family

Spend the first day of your Iceland adventure exploring the capital city of Reykjavik.
It is a fairly young and thriving city and will be the headquarters for many of your adventures over the next few days. Strap on your walking shoes and grab a bite to eat before hitting the streets! 
Free Walking Tour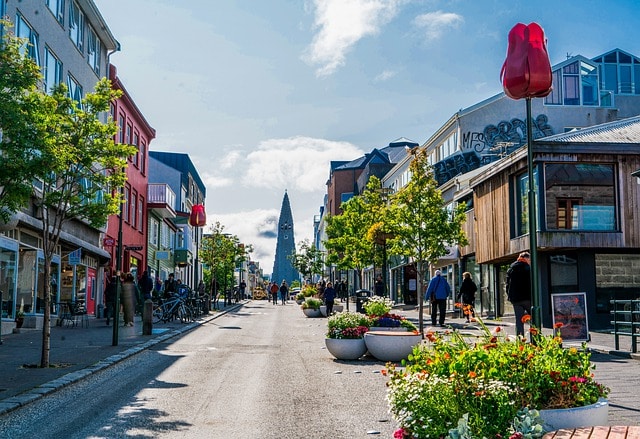 This is a great place to start your time in Iceland as there is no better way to explore a new city than by your own two feet! Free Walking Tours will introduce you to Reykjavik, a bustling city that is rapidly changing.
The focus of the tour will be on the history of the city, as well as taking you past many of the famous landmarks associated with Iceland's Viking history. An English speaking guide will humorously take you on a 2-hour journey through Reykjavik's evolution, and get you acquainted with this town. 
Free Walking Tours typically need to be booked in advance. Do some research to find a reputable company. While they are free-of-charge, the operations run off of tips, so bring along some cash to be able to thank your guide for their knowledge and expertise!
Hallgrimskirkja Church
The tallest building in Reykjavik, this church's steeple can be seen from almost anywhere in town.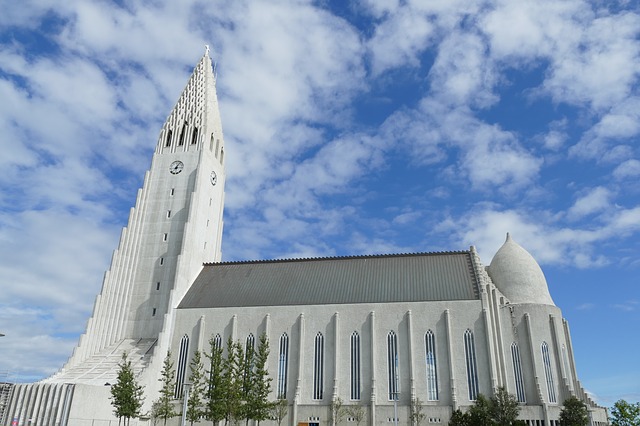 Originally designed in 1937, it was finally completed in 1986 and features stunning architectural designs. While there, try to catch a choir or organ performance before working your way to the top for an incredible view of Iceland's capital.
Sculpture Garden
This free garden is open year-round and houses 26 bronze casts created by the Icelandic sculptor Einar Jónsson. It was formally opened in 1984 and is a unique opportunity to get out into the open air while touring through Reykjavik. 
Whale Watching

Because of its location right along the ocean, Reykjavik is an excellent basecamp for seeing some wildlife in person that will astonish young and old alike.
This guided boat tour will take you along the coast of Reykjavik, offering up views of the city while perfectly placing you in the best locations to see a variety of wild whales.
This is a great introduction to the coast of Iceland, and it's a fun activity to do with children, sure to give you lots to talk about at dinner on your first night in Iceland.
Day 2 of Your Iceland Itinerary
Grab breakfast at a local cafe, pack some to-go lunches, and load up the car for a one-day journey through Iceland's heartland. Today's journey will take you to some of the most iconic natural landscapes in all of Iceland. 
The Golden Circle Route


The Golden Circle route consists of three world-renowned natural beauties near Reykjavik that offer unique and breathtaking glimpses of Iceland's hidden gems.
Spanning a total distance of 125 miles, every family should have the Golden Circle at the top of their Iceland itinerary. 
Thingvellir National Park

The first leg of the Golden Circle Route will take you 45 minutes from Reykjavik to Thingvellir National Park, the one and only UNESCO World Heritage Site located in Iceland.
Make your first stop at the visitor's center, which houses an interactive exhibit detailing the history and geology of the national park.
From there, visitors can choose a number of activities, from hiking, horseback riding, and fishing. 
Geysir Geothermal Area

After exploring all that Thingvellir National Park has to offer, head about an hour northeast to the Geysir Geothermal Hot Springs.
One of the most popular stops along the Golden Circle, this area includes erupting geysers and mud pits that have been active for more than 1,000 years.
The most famous geyser there, Strokkur, explodes every 15 minutes or so. This will have many kids with their jaws on the ground!
One of the best parts about this 4 day Iceland itinerary is that your kids will have fun and learn some important things about science that they can take back to their classroom and share with their friends. Family trips like this one can spark a lifetime hunger for learning new things and exploring the world. What a gift!
Gullfoss Waterfall
Gullfoss, which translates to "Golden Waterfall", is Iceland's most iconic waterfall. With a total height of 32 meters, this splendor of natural landscapes has 2 separate falls cascading into the Hvita River.

Get up close and personal as you snap the perfect family photo in front of the towering waterfall.
Drive the Golden Circle Route back to Reykjavik
Once you finish at the Gullfoss Waterfall, work your way back to Reykjavik, a journey of about 2.5 hours. Instead of returning the way you came, many people make a circular trip back to the city to see new sites and enjoy the stunning scenery.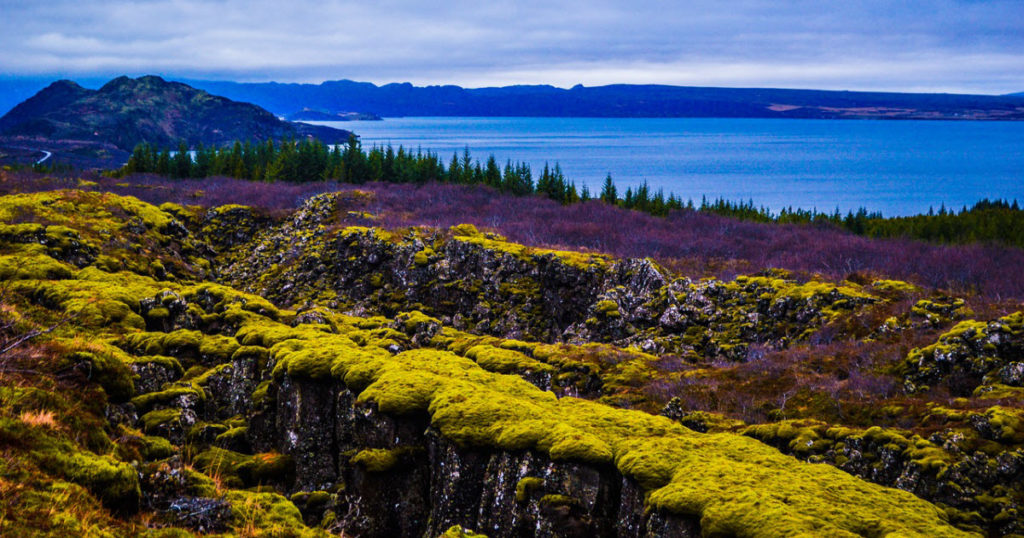 If time permits in your schedule, there are some other off-the-beaten-path locations that can be quickly reached from the traditional Golden Circle route.
Prepare ahead of time to fit these into your schedule as well if you are able. 
Iceland Itinerary: Day 3 Adventures
Spend the day connecting with nature in an entirely different way than you are used to. Grab a jacket and some good hiking shoes as today will take you to a glacier that looks straight out of a magazine. 
Langjokull Glacier and Ice Cave Tour

Get ready for a once-in-a-lifetime experience as you traverse through the insides of an ice cave. This is one of our favorite destinations on this 4 day itinerary Iceland offers.
Located about 2 hours from the capital city is the second-largest glacier in Iceland. Known as Langjokull, this mass of ice translates to "Long Glacier".
Inside of the glacier itself is the world's largest man-made ice cave. Explore it and you'll see stunning shades of blue and flawless walls of ice.
Visitors to the glacier can drive to the glacier themselves or purchase transportation through a tour group from Reykjavik. Once there, families can go snowmobiling, hike on top of the glacier or take a tour of the cave.

Optional Addition: Northern Lights Tour
Depending on the time of year, you may want to look into a Northern Lights Tour. The Aurora Borealis is a spectacular light show in the night sky that is truly a natural wonder.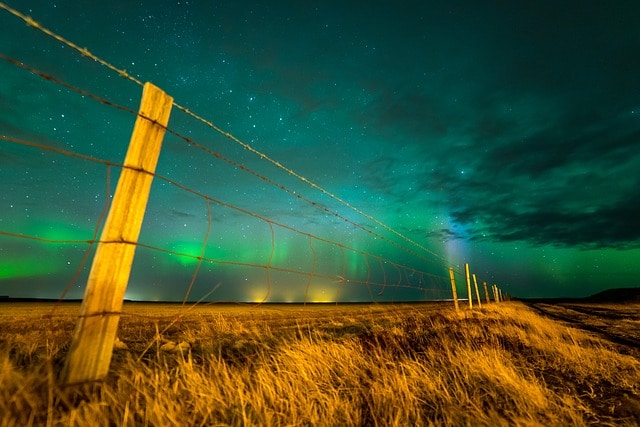 It is most active in the winter months, and best viewed in the countryside. If you are traveling to Iceland between October and March, look into adding this night tour as an extension to your itinerary!
In your rental car you can find the perfect spot for a late-night picnic with your partner and kids … something your entire family will never forget. 
Day 4: Your Final Day in Iceland
Take some time to enjoy some good-ole family fun on your final day in Iceland. These activities will delight both the children, and the inner-kid in you.
As you begin to work your way back to the airport on the final day of your 4 day itinerary, Iceland still has some must-visit spots to fit in before leaving this beautiful country. 
Play with Sled Dogs

Iceland has a rich history closely connected with sled dogs. And there are still a number of dog sledding kennels across the countryside. Some of these offer tours.
If you think your kids will enjoy it, why not spend part of your final day in Iceland taking part? This unique activity will be fun, and teach some valuable lessons about Iceland's history.
Many dog sled kennels also have the opportunity to participate in a dog sled ride or tour. You will experience the exhilarating feeling of being pulled by a team of dogs across Iceland's rugged landscape. This is usually a season-specific activity (you need snow on the ground), and it can be expensive. That said, if it works with your schedule and budget, we recommend trying to squeeze this in. It's a fun activity on the final day of your 4 day Iceland itinerary.
Head to the Blue Lagoon

Whether you ride in a dog sled or not, the Blue Lagoon is probably the most iconic tourist attraction in all of Iceland. Make it the final stop on your trip.
The Blue Lagoon is located about 45 minutes from Reykjavik. Taking a dip in this natural geothermal spa is fun, and truly one of a kind.
Spend a few hours soaking and swimming in these geothermal spa waters located in a lava field. The lagoon's milky-blue waters will mesmerize any visitor. This destination offers a fun, family-friendly time to relax after a long few days touring through Iceland. 
We can't think of a better activity before you board a plane for a long flight home.
Once you're done soaking away all your worries in the geothermal waters, grab dinner at the Lava Restaurant. This is a dining experience unlike any other. The restaurant is built into the lava wall on the edge of the Blue Lagoon.
Finally, head to the airport for your late-night flight. Your kids will be tired and fall asleep without complaint once on the plane. After they do, you and your partner can enjoy a night cap together. Hold hands, and reflect on the incredible memories you've made together as a family.